Slide 1
The Ultimate "TRY US AND SEE DEAL"
10 hours of driving tuition
With 100% Money Back Guarantee!
Slide 2
With over 3000 Local Test Passes and
Who will you trust with your
Slide 3
Unique ALS- Accelerated Learning System to
ensure you learn as fast as possible and
also receive the maximum value
Book Your Driving Lessons Today
To book a driving lesson or to discuss starting your lessons, please call us on 0333 772 0393 or fill in the form below.
"*" indicates required fields
Slide 1
The Ultimate "TRY US AND SEE DEAL"
10 hours of driving tuition
With 100% Money Back Guarantee!
Slide 2
With over 3000 Local Test Passes
Who will you trust with your
Slide 3
Unique ALS- Accelerated Learning System to ensure you learn as fast as possible and also receive the maximum value for your money.
Due to pupil demand, we are currently looking for new instructors in all areas - No experience needed.
Fully Funded Driving Instructor Courses Available.
Topclass Driving School
Topclass Driving School specialises in all aspects of driver training including learner driving tuition and driving Instructor training. Established since 1998 we have gained the reputation of being one of the most popular driving schools in Kent. We have been providing driving lessons in Medway, Gillingham, Chatham, Rochester, Gravesend, Dartford, Maidstone, Sittingbourne, Sheerness, Canterbury, Herne bay and surrounding areas of Kent for many years. Our aim is to provide the highest quality driving lessons at affordable prices to everyone.
We strive to keep our driving lesson prices as competitive as possible without compromising on the quality of service and tuition we provide. As a customer of Topclass driving school you can benefit from our Introductory Offers on our 10 hour try us and see packages and our block booking discounts. Our lesson prices also include access to our online theory training suite theory test pro (This is only available to customers of Topclass Driving School). Driving lesson Gift vouchers are also available for that special occasion.
We offer both male and female driving instructors that are local to your area with manual and automatic dual controlled cars. Our driving instructors cover all the local and major test centres in Kent. All our driving instructors are DVSA approved, DBS certified, and abide by the Industry Code of Practice and our own Topclass Mission Statement. We can offer 1 or 2 hour beginner driving lessons, motorway and refresher lessons through to pass plus and intensive driving courses. You will receive a one-to-one driving lesson bespoke for you to match your needs and ability. For your convenience you can be picked up / dropped off from home, work, or college at a time suitable for you.
All Topclass Driving School instructors have a high pass rate and are dedicated to providing you with an excellent learning experience, along with the best service possible. Their calm and patient approach will ensure you not only achieve your driving goals, but learn in a safe and fun atmosphere, giving you the confidence to reach your full driving potential.
But don't just take our word for it! We let our customer reviews speak for themselves.
With over 3000 driving test passes and 650 customer reviews on our website, who will you trust with your driving tuition? Read what our customers have to say about us.
We are so confident that you will love the tuition we provide that we will give you a massive £60.00 discount to "Try Us and See" with a 100% money back Guarantee.
Unique ALS – Accelerated Learning System to ensure you learn as fast as possible and also receive the maximum value for your money. Learn faster and cheaper.
Not only will we give you a massive discount to Try Us & See BUT will also back it up with a 100% Money Back Guarantee should you not be delighted with our service or tuition.
It would be a very BIG! Mistake to think that all Driving Schools are the same!
Try Us and See why we are one of the most liked Driving Schools in Kent
"Refreshingly Different"

Looking for Manual Driving Lessons?  We offer a choice of full one or two-hour manual driving lessons with pick up from home, work or college. With expert and friendly driving Instructors.
Struggling with gears and clutch? Looking for a simple and stress free way to get on the road? Automatic driving lessons are a quick, convenient, and cost effective way to getting a driving license.
Want to fast track your way to your driving licence? Pass quickly within 1 to 6 weeks with one of our  intensive driving courses, specifically tailored to suit your individual needs.
500 Students a Week can't be wrong!
Our Mission to you is Customer Success and with over 3000 local Driving Test Passes and 650 Customer Reviews on our websites we prefer to let Our Customers do the Talking.
We offer quality driving tuition from as little as £28.00 an hour. Discounts on block bookings and save up to £60.00 with our 10 hour Try Us and See deal with 100% money back guarantee.
Want to check out your driving instructor?  Meet our team of DVSA qualified, expert and hardworking local manual driving instructors who are waiting to deliver your driving lessons.
Topclass driving school provides manual and automatic driving lessons across most areas of Kent and surrounding areas.
Find a local driving instructor near you.
Kents Premier Driving School
Offering Success Based Lessons that deliver with 100% Money Back Guarantee
Your satisfaction guaranteed or we will personally refund your lesson fee
With over 3000 driving test passes on our websites, who will you trust with your driving tuition? Check out our High 1st time pass rates.

Looking for a gift for that special occasion? The gift of freedom and a skill that will last a lifetime?
Driving lesson gift vouchers are the answer.

Students using Theory Test Pro are twice as likely to pass their theory test. All our students get free access to our theory test pro software via our website, click to take a test.
Unique ALS – Accelerated Learning System to ensure you learn as fast as possible and also receive the maximum value for your money.
The client centred approach to teaching is the most up to date and modern way of delivering driver education and has a proven track record of success.
We have experienced instructors providing driving instructor training for anyone considering a change of career and wanting to become a driving instructor.
Are you an ADI or PDI? Want to join us? We believe we offer the best franchise deal anywhere in the industry. No start-up costs and a low monthly franchise fee.
What should you expect from your Topclass Driving School Instructor?
All our Instructors will give you
Great Service - Great Tuition - Great Prices
An excellent quality of customer service

Fully structured driving lessons that meet your lesson goals

A patient, calm and understanding approach to your learning needs

A set learning plan to achieve maximum learning during your driving lessons

Full assistance when you require it or use of prompts to help guide to a successful outcome

Transfer of responsibility to you the pupil to enable independent driving making YOU a safe and confident driver on the road
We are very proud of the outstanding feedback and comments we receive about our team of driving instructors here at Topclass driving school. Please feel free to contact us to discuss your driving lesson requirements.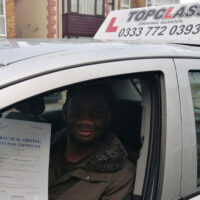 Mojibola Ogianbanjo
Maidstone
4 months ago
Thanks to my driving instructor Andy and Topclass for being reliable flexible and good value. Andy was always calm and controlled but with a good sense of humour would highly recommend.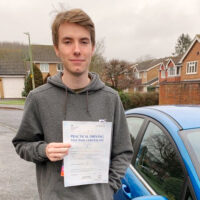 Alex Mossman
Maidstone
4 months ago
I would like to say thank you to my driving instructor Lynne from Topclass for instructing me, she creates a calm environment for every lesson and without her I would not have passed as quickly and as easily as I did.
Thank you so much Lynne will recommend you to everyone!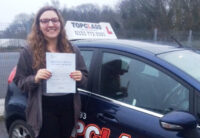 Gemma Philbrick
Gillingham
4 months ago
Took my driving lessons with Tim from Topclass and passed my test 1st time I'm so happy. My driving lessons where always fun and I really enjoyed them, Tim is really easy to get on with which makes the learning more relaxed. I would totally recommend to anyone who wants a relaxed and laid back learning environment.
Topclass Driving Schools COVID 19 Safety Procedures
We take the safety of our instructors and you our customers extremely seriously.