Slide 1
The Ultimate "TRY US AND SEE DEAL"
10 hours of driving tuition
With 100% Money Back Guarantee!
Slide 2
With over 3000 Local Test Passes and
Who will you trust with your
Slide 3
Unique ALS- Accelerated Learning System to
ensure you learn as fast as possible and
also receive the maximum value
Book Your Driving Lessons Today
To book a driving lesson or to discuss starting your lessons, please call us on 0333 772 0393 or fill in the form below.
"*" indicates required fields
Slide 1
The Ultimate "TRY US AND SEE DEAL"
10 hours of driving tuition
With 100% Money Back Guarantee!
Slide 2
With over 3000 Local Test Passes
Who will you trust with your
Slide 3
Unique ALS- Accelerated Learning System to ensure you learn as fast as possible and also receive the maximum value for your money.
Due to pupil demand, we are currently looking for new instructors in all areas - No experience needed.
Fully Funded Driving Instructor Courses Available.
Driving Lessons Rochester, Medway, Kent
Topclass driving school have been offering a range of high quality and competitively priced driving lessons in Rochester since 1998 and have gained an outstanding reputation for customer service. The dedication, professionalism, and willingness of our local driving instructors to go that extra mile, has built us an unrivalled trust with local residents looking to learn to drive in the Rochester area and we are proud to now be one of the most recommended driving schools in Rochester.
Learning to drive in Rochester couldn't be easier, you can take your first driving lessons with one of our professional, DVSA approved, male or female driving instructors. All of our driving instructors will provide you with expert driving tuition, along with an excellent first time pass rate.
We are the first driving school in the Rochester area to introduce and operate a Unique ALS – accelerated learning system to ensure you learn as quickly as possible and receive the maximum value for your money. Add this to our ever popular try us and see deal of 10 hours of fully structured driving lessons and you're giving yourself the best possible chance to save money and pass first time.
Another first to the Rochester area is our 100% money back guarantee  We are so confident in the abilities of our driving instructors to get you test ready in the shortest time possible, that if you are not delighted with either the service or tuition you receive we will refund you.
If you're searching for driving lessons Rochester, we can provide full 1 or 2 hour lessons in manual or automatic vehicles. Or if you're in a hurry or need to get on the road fast you can learn to drive in 2 – 6 weeks with one of our intensive driving courses.
Our driving services range from beginner driving lessons, right through to refresher, pass plus, and motorway lessons for full license holders.
For your convenience you can be picked up or dropped off for your driving lessons from your home, work, or college at a time that fits in with your schedule. So if you live, work, or go to school or college in the Rochester area why not give us a call.
Your road to success begins and ends with Topclass driving school.
We Are Extremely Proud Of Our Customer Feedback
With over 3000 driving test passes and 650 customer reviews on our website, who will you trust with your driving tuition? Read what our customers have to say about us.
We are so confident that you will love the tuition we provide that we will give you a massive £60.00 discount to "Try Us and See" with a 100% money back Guarantee.
Unique ALS – Accelerated Learning System to ensure you learn as fast as possible and also receive the maximum value for your money. Learn faster and cheaper.
Not only will we give you a massive discount to Try Us and See BUT will also back it up with a 100% Money Back Guarantee should you not be delighted with our service or tuition.
Why Choose Topclass Driving School Rochester, Medway, Kent
Rochester's Premier Driving School
Offering Success Based Lessons That Deliver With 100% Money Back Guarantee.
Your Satisfaction Guaranteed or we will Personally Refund Your Lesson Fee.
So why choose us? Apart from our fantastic try us and see deal of 10 lessons for only £280.00 with a 100% money back guarantee and our unique ALS- accelerated learning system, saving you money and helping you to learn faster and cheaper, we can boast over 650 genuine customer reviews and over 3000 local driving test passes. We have local male and female driving instructors covering not only the Rochester area but most of the major towns in Kent.
You can choose to learn in manual or automatic and driving lessons can be taken in 1 or 2 hour slots to suit your availability. For flexibility our driving instructors can pick you up from home work or college. For those special occasions, we have gift vouchers or e-vouchers available that can be emailed, sent to you by post, or delivered to you direct by one of our local driving instructors.
Lessons from only £28.00 per hour

Ultimate try us and see deal

100% Money back guarantee

Unique accelerated learning system

Over 3000 local test passes

Over 650 customer reviews
Full 1hr or 2hr driving lessons

2, 4, & 6 week intensive driving courses

Male and female driving instructors

Manual or automatic driving lessons

Free theory test training

Motorway/pass plus lessons
Choosing a driving school is one of the most important decisions you must make and can be a daunting prospect. So how do you go about finding the one to match your needs?
With over 3000 driving test passes on our websites, who will you trust with your driving tuition? Check out our High 1st time pass rates.
Looking for a gift for that special occasion? The gift of freedom and a skill that will last a lifetime? Driving lesson gift vouchers are the answer.
Topclass driving school provides manual and automatic driving lessons in Rochester and surrounding areas.
Driving Instructors Rochester, Medway, Kent
Expert Male and Female Driving Instructors, Providing Professional and Affordable
Driving Lessons in the Rochester Area.
We currently have seven local driving instructors teaching in the Rochester area that are DBS (formally CRB) checked for your peace of mind and safety. For your convenience you can have a choice of both male and female driving instructors.
Our Rochester based driving instructors are trained to an extremely high standard and many of them have become driving instructors through our own in house instructor training programme. All Topclass driving school instructors are required to sign up to the DVSA code of practice, so you can be rest assured you're in good hands.
Our top rated driving instructors are able to accomplish a much better pass rate than most of our competitors, this is because of their knowledge and experience in teaching in the Rochester area, and expertise in judging when their pupils are ready to sit their practical driving test. Our driving Instructors are also very familiar with the local driving test routes and will give you as much practice on these routes as possible.
We appreciate that such a demanding life skill can take a lot of time and a lot of persistence to master. If you have taken driving lessons previously with other driving schools in Rochester, independent driving instructors, or private driving instructors in Rochester, you may question how our driving instructors can improve upon their performance?
Our driving instructors understand that every pupil they teach is different, requiring driving lessons that reflect their own way of learning. All the driving lessons we provide are based on the DVSA syllabus and focus on client centred learning and coaching techniques, this is a way of teaching that takes into account how the pupil prefers to learn and is based on each pupil's individual needs.
Want to check out your driving instructor? Meet our team of DVSA qualified, expert and hardworking, local driving instructors. Who are waiting to deliver your driving lessons.
The client centred approach to teaching is the most up to date and modern way of delivering driver education and has a proven track record of success.
We have experienced instructors providing driving instructor training for anyone considering a change of career and wanting to become a driving instructor.
Are you an ADI or PDI? We believe we offer the best franchise deal anywhere in the industry. No start-up costs and a low monthly franchise fee.
Manual Driving Lessons Rochester, Medway, Kent
A Professional and Affordable Driving School
Full 1 or 2 Hour Manual Driving Lessons Available with Expert and Friendly Driving Instructors.
Manual Lessons From Only £28.00
Looking for manual driving lessons? Topclass driving school can provide manual driving lessons in Rochester and most of the major towns in Kent. Manual lessons are by far the most popular way to learn to drive. If you choose to learn to drive in a manual car you will need to learn how to select the gears by coordinating between the clutch pedal and the gear lever to select the right gear at the right time.
There are many benefits to choosing manual lessons, you will be able to drive not only manual but also automatic cars once you've passed your driving test. Another benefit is that manual cars are normally a little cheaper to buy and run than automatic and also tend to give better fuel economy. It's worth taking a bit of time to think about which option is best for you but whatever you choose, you can be sure you will receive the same high standard of driving tuition from your Topclass driving instructor.
All your manual driving lessons will be fully structured and planned according to your individual learning ability, this way you will never be put in a position that you feel you can't handle. At first you will be given complete talk through instruction until you feel able to drive more independently, then you will be given less instruction as you progress, eventually reaching full independence and test readiness.
Whether you choose to learn to drive in manual or automatic, as you come close to test standard your driving instructor may offer you a 'mock' driving test. This will be conducted by one of our own manual driving instructors and will help to give you an idea of what to expect on test day and give you a better understanding of your strengths and weaknesses when you're put under driving test conditions.
Looking for Manual Driving Lessons?  We offer a choice of full one or two-hour manual driving lessons with pick up from home, work or college with expert and friendly driving Instructors.
Automatic Driving Lessons
Dont Struggle With Gears and Clutch! Go Automatic.
Full 1 or 2 Hour Automatic Driving Lessons Available With Expert and Friendly Driving Instructors
Automatic Lessons From Only £30.00 Hour
If it's an automatic driving school in Rochester you need, then look no further. We can also provide you with an automatic driving Instructor too.
Automatic cars make learning to drive a lot less stressful and are a quicker & easier option to learning to drive. Because there's no clutch, there's no need to be anxious or worried about stalling, or finding the biting point. You only need to select your gear once, this is normally when the vehicle is stationary and all other gear changes will be carried out by your cars Automatic gearbox.
Automatic driving lessons are a faster and easier way to attaining a driving license. Driving an automatic gives you more time to concentrate on things such as the forward planning and steering of the vehicle and you only need to use your right foot for the control of the accelerator or footbrake.
Lots of people find driving an automatic quicker, easier, and more comfortable after having tried manual driving lessons first. Whatever the reason for choosing to learn to drive in an automatic we can offer you automatic driving lessons in Rochester with the same expertise and professionalism as we do our manual driving lessons.
However, remember to take into consideration that if you decide to learn to drive in an automatic vehicle that you will be restricted to driving an automatic vehicle once you have passed your driving test.
If you're interested in automatic driving lessons visit our dedicated page automatic driving lessons Rochester.
Struggling with gears and clutch? Looking for a simple and stress free way to get on the road? Automatic driving lessons are a quick, convenient, and cost effective way to getting a driving license.
Intensive Driving Courses
Fast Track Your Way to Driving Test Success and Pass Within 1 to 6 Weeks
With an Intensive Driving Course
Intensive Driving Courses From as Little as £32.00 Hour
Intensive driving courses, sometimes called driving crash courses are now considered to be one of the quickest and successful methods of obtaining your driving licence. Our intensive driving courses in are not only available to beginners but advanced learners too.
Intensive driving courses are the perfect choice if you have a busy life or work schedule and find it difficult to fit in weekly lessons. Taking a weekly lesson could take you anywhere between 6 to 12 months depending on ability and frequency of your driving lessons and can end up costing you more in the long run.
Intensive driving courses are ideal if you want to get your driving license and get out on the road in the shortest time possible and are now becoming one of the most popular ways of doing so.
Our intensive driving courses are available both in manual and automatic vehicles and start from as little as 8 hours right up to 40 hours. The course you need will depend on your current experience and can be taken over 2 to 6 weeks depending on the hours you require.
If you decide an intensive driving course is right for you, one of our specialist intensive course driving instructors will take you out on an assessment lesson. This will allow our driving instructor to give you a recommendation on which driving course is best for you based on your current driving experience and ability.
If you're interested in an intensive driving course in Rochester visit our dedicated page here Intensive driving courses Rochester.
Want to fast track your way to your driving licence? Pass quickly within 1 to 6 weeks with one of our manual or automatic intensive driving courses, specifically tailored to suit your individual needs.
Learning to Drive in Rochester, Medway, Kent
Unique ALS – Accelerated Learning System to Ensure You Learn as Fast as Possible
and Receive the Maximum Value For Your Money
Learn Faster and Cheaper With Us.
Learning to drive in the Historic town of Rochester, with its Norman castle and Cathedral will give you an amazing taste of history. Loved by the famous author Charles Dickens who lived in the area, Historic Rochester inspired him so much that he featured it in his books numerous times and many of the buildings that featured in the works of Dickens such as Restoration House and Eastgate House can still be visited today.
Whilst driving in Rochester you may pass by the Rochester Cathedral which is the second oldest in England and was founded in 604AD. If you drive over the Rochester Bridge you will undoubtedly pass by the superb Rochester Castle which is built on the highest part of Rochester's Roman city wall, to defend the crossing of the river Medway.
New learners will take their first driving lessons in Rochester on a one to one basis (no car sharing) and on very quiet roads. With Rochester being made up of 3 postcode areas ME1, ME2 and ME3 there are plenty of different road types to practise on including, residential areas, dual carriageways, national speed limit, and the more rural roads out towards the Hoo Peninsula. So whether you live in the main Rochester area, Hoo, Wainscott, Allhallows, Grain or Cliffe your instructor will be able to get you started.
If you're new to driving your first driving lesson will be made up of of a safety routine known as the cockpit drill and a lesson to learn all of the vehicle controls. If you already have some driving experience your instructor will ask you several questions to find out your driving knowledge and your lesson will start off from the most appropriate point.
You can be sure you will be safe at all times as all our driving school vehicles have dual controls. This means your driving instructor can take charge of the vehicle if needed at any time. Everyone learns at a different pace and learner driver training routes are divided into three main areas: nursery, intermediate & advanced routes. Your driving instructor will move you on to each stage as you improve.
You will learn to move away and stop and change up and down the gears, meet vehicles negotiate basic junctions. As you gain more confidence you will move on to more complex road junctions, crossroads and roundabouts. Eventually driving in and around Rochester town centre, tackling Rochester Bridge and major roads like the Rochester Maidstone road and dual carriageways such as the A229, A228, A229 and A2.
You will also be taught the manoeuvres, emergency stop, hill starts and independent driving exercises like following road signs and using a sat nav. Your instructor will also give you a list of the 'show me, tell me' questions to learn.
All our Rochester driving instructors keep up to date with the changes in the highway code regulations and any recent changes to both the practical driving test and theory / hazard perception test, so you can rest assured we will always have the most up to date knowledge regarding any changes to pass on to you.
We cover the following postcode areas in Rochester: ME1, ME2, ME3.
If you'd like to book driving lessons in Rochester please call: 01634 926306
Theory and Hazard Perception
Gain Full Access to Our Theory Test Pro Training Suite, Our Online Learning Resource
Available Free to Topclass Driving School Pupils
Whether you choose pay as you go driving lessons in Rochester or one of our intensive driving courses you will be given full access to our Theory Test Pro training suite, our online learning resource. Learner drivers that use theory test pro are two times as liable to pass the theory test as the national average. The UK average pass rate is 41% using theory test pro can double this to over 82%. It also contains the full revision question bank from the DVSA and will give you full and realistic hazard perception clips.
The nearest theory test centre used for Rochester is in Chatham Kent.
Pearson Professional Centre: 14-16 High St, Chatham ME4 4EP.
The test centre is around 1 to 5 miles away depending on what part of Rochester you are travelling from and which route you take. For information on your theory/hazard perception test or for the locations of other theory test centres near Rochester please see our theory test page.
You can check theory test availability and book your theory test here.
Rochester Driving Test Centre
The nearest driving test centre used for your driving lessons in Rochester is situated in Gillingham Kent.
Gillingham driving test centre: Unit 1, Astra Park Courteney Road Gillingham ME8 0RZ.
For the locations of other driving test centres near Rochester please see our local driving test centres page. For information on your driving test please visit our practical driving test page. You can check driving test availability and book your driving test here.
Students using Theory Test Pro are twice as likely to pass their theory test. All Topclass driving school students get free access to our theory test pro software via our website, click to take a test.
Driving Lesson Prices Rochester, Medway, Kent
10 Lessons For Only £280.00,
We Are so Confident That You Will Love the Tuition We Provide That We Will Give You a
Massive £60.00 Discount to "Try Us and See"
When choosing your driving School we understand that cost is an important factor. If you're searching for driving lessons near me, driving instructors near me or driving schools near me, you will find there are many to choose from and driving lesson prices and offers will vary from school to school. You want the best driving school for your budget but before deciding ask yourself this question- are the cheapest driving lessons the best driving lessons?
Cheap driving schools offering low lesson prices may seem like a good idea, but you should carefully consider the standard of tuition you'll be receiving. You might think you are saving money but the trade-off could be that you need double the amount of lessons to obtain your driving licence.
When you compare driving schools don't go on driving lesson prices alone, try to make an informed decision by reading customer reviews and recommendations from real learner drivers. Look for quality of teaching and learner ratings along with patience and friendliness of instructors.
Topclass driving school offers a range of reasonably-priced manual and automatic driving lesson packages and deals for beginners, without sacrificing on service and quality. Our PAYG lessons along with our block booking deals are very competitively priced and are conducted by highly recommended driving instructors near you.
How many other local driving schools will give you the opportunity to try them out first with a 10 hour try us & see deal and give you a further discount on subsequent 10 hr block bookings? We are so confident you will love the tuition we provide that if you're not happy for any reason we will also give you a 100% money back guarantee.
We offer quality driving tuition from as little as £28.00 an hour. Discounts on block bookings and save up to £60.00 with our 10 hour Try Us and See deal with 100% money back guarantee.
Customer Reviews Rochester, Medway, Kent
500 Students a Week Can't Be Wrong! Our Mission To You Is Customer Success!
With Over 3000 Local Driving Test Passes and 650 Customer Reviews On Our Websites
We Prefer To Let Our Customers Do The Talking.
We rely a lot on customer recommendations to keep our large team of Rochester instructors busy and are grateful to our customers past and present for the customer reviews they provide.
With over 3000 driving test passes and 650 local customer reviews and the reasons given for choosing us to include the quality of teaching, patient & friendly instructors, excellent reputation & the high number of recommendations you can be assured of top quality service and tuition.
You can read all our customer reviews and comments on our customer reviews page and check out all our recent driving test passes at our driving test passes page. Read our mission statement and check out our 8 success steps to a 1st time pass to help you decide.
With friendly, patient and highly skilled driving instructors, Topclass driving school is looking forward to helping you achieve your driving ambition in 2020. So if you're searching for driving schools Rochester make Topclass driving school your first choice.
We are very proud of the outstanding feedback and comments we receive about our team of driving instructors here at Topclass driving school. Please feel free to contact us to discuss your driving lesson requirements.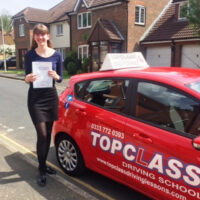 Carolyn (Emma's Mum)
Rochester
2 years ago
Hello Lisa, I'm Emma's mum and just wanted to say a huge thank you for teaching Emma these last few months. We are so happy for her that she has passed. But it's not just passing the test, it's the confidence that she's gained and that you've given her and she has really enjoyed her lessons and being taught by you. Hopefully in a couple of year's time you'll be able to teach our other daughter! Thank you and best wishes.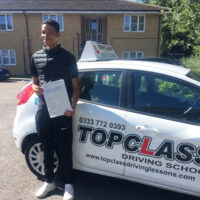 Aden Harding
Rochester
3 years ago
Thank you to Katy from Topclass driving school for helping me pass my driving test. I really enjoyed our driving lessons a lot and I look forward to seeing you about. Thanks again.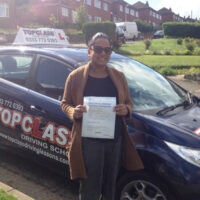 Natasha Block
Rochester
3 years ago
I would like to say a big thank you to Tim who has been very professional from day one. Having struggled to pass my exam 4 times with a different driving school I've decided to try Top Class driving school, I've had two weeks 24 hours intensive lessons and passed straight away! Tim was very attentive and patient with me although I was doing the same mistake on and on, he's made me feel comfortable. He's been giving me constant feedback and support. I would highly recommend Top Class Driving school and it will be a plus if you manage to get Tim as your instructor. Best wishes Tim.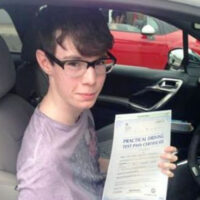 Jack Horrocks
Rochester
3 years ago
Hi my name is Jack horrocks I passed my driving test at Gillingham test centre on the 25th July I would like to say a big thank you to Topclass driving School and Amanda my driving Instructor for helping me to pass my test. Thanks Amanda.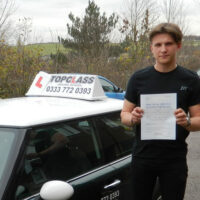 Chris Goodman
Rochester
3 years ago
A brilliant driving school. I had Emily as my instructor and couldn't ask for anyone better to teach me. I felt very comfortable and safe learning to drive. I looked forward to every lesson I had thanks to her. I would definitely recommend Topclass to anyone who wants to learn to drive and pass their test.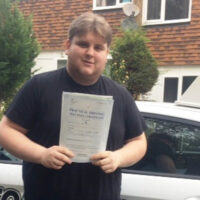 Sam Osmon
Rochester
3 years ago
Cheers to Katie and all at Topclass amazing instructor and passed first time with only 23 driving lessons, am still in shock. Thank you again for making me feel at ease and helping me to pass my test you made me feel extremely confident and couldn't have done it without you. Highly recommend Katie and Topclass.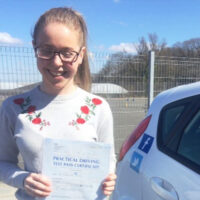 Victoria Williams
Rochester
3 years ago
Would like to say a huge thanks to Katy from Topclass driving school I passed my test first time, nerves did kick in on the morning of the test but you made me feel at ease, will miss our random conversations and will recommend yourself and
Topclass to everyone... thanks again X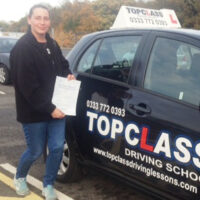 Jo Atkins
Rochester
3 years ago
After failing 2 manual driving tests over 20yrs ago, I decided to try again but this time in an Automatic. I was recommended to Tim at Topclass driving school by one of my work colleges who had previously passed with him. It was definitely the best decision I ever made! With a lot of patience & confidence boosting from Tim I finally passed my driving test today I can't thank Tim enough. I never thought my "jelly brain" would retain anything long enough to actually pass. Thanks for your excellent tuition Tim, driving lessons with you where never a chore. I will highly recommend you to all of my family & friends x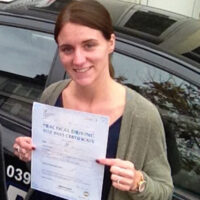 Charlotte Durling
Rochester
3 years ago
I am so happy to say I finally passed my driving test today after 9 attempts over the past 10 years!! I could not have done it without Top class driving school and my just slightly annoying driving instructor Tim!! Honestly he has been the best instructor I have had after going through so many instructors and different companies, I finally found the right one to get me through it. I'm probably a nightmare pupil with a dry sarcastic sense of humour, a bit of a stress head and of course no patience. After trying for so long driving lessons had become a complete chore, but Tim always kept me going and made me laugh. I never thought I'd pass my test lacking any confidence and always needed reassurance on what I was doing. But I have never been so proud of myself and honestly I couldn't have done it without my instructor. Timothy you're a legend!!!! But be aware he has some very irritating catch phrases like 'no rush at all' or 'cool calm and collected' which he will repeat at least 20 times in your hour lesson, these will be permanently stuck in my brain every time I drive. Thank you so much Tim, Your driving school really is the best I have been with, and I will always highly recommend Topclass driving school and you to everyone.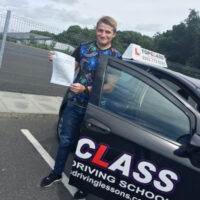 Nathan Mcenzie
Rochester
3 years ago
Hi my names Nathan Mcenzie I took my driving lessons with Topclass driving school as had heard it was such a good driving school. I took my driving test today and passed with only 5 minors I would like to say a big thanks to my driving instructor Katie she is an amazing driving instructor very calm and patient I would highly recommend Topclass and Katie to everyone.