Driving Instructor Qualifying Tests
Be prepared and ready for all three tests with our Driving Instructor Training Programme.
To become an Approved Driving Instructor (ADI), you must pass the three qualifying tests. These consist of; a theory test (part1), an advanced driving test (part 2) and an instructing test (part 3). You can take the part 1 theory test as many times as you need to pass. However, you are only allowed three attempts at each of the ADI part 2 and ADI part 3 tests.
You'll have to restart the whole qualifying process if you use up all your attempts or if it's more than two years since you passed the ADI part 1 theory test.
The Part 1 Theory Test
The part 1 theory test is split into 2 sections; Theory and Hazard perception. You will be tested on a wide variety of driving, learning and teaching-related matters. The theory consists of 100 multiple choice questions banded into four sections of 25 questions. You must score 80% in each band and achieve an overall pass mark of 85% to pass. Four possible answers will be given for each question. Some questions may ask for two or more correct answers.
Hazard Perception Test
The hazard perception test starts with a short video that will explain how the hazard perception test works and what you need to do. At the end of this clip you have the option to go onto the test or play the video again. There will be 14 different video clips thirteen clips will contain one developing hazard and one clip will contain two developing hazards. Each hazard is worth a possible 5 points. The pass mark is 57 out of 75.
You must pass both parts at the same time to pass the test. The time allowed to complete the test is 90 minutes.
The test costs £83. You must have been accepted to start the qualifying process by the Driver and Vehicle Standards Agency (DVSA) before you book the ADI part 1 test. A Disclosure and Barring Service check is mandatory for Driving Instructors.
The Part 2 Driving Test 
You will be assessed on your driving ability on a variety of roads and conditions and when manoeuvring in a tight space. It's the second of three tests you must pass to qualify as an ADI.
The test costs £111. You must pass the ADI part 1 test before you can book and take part 2.
The test lasts approximately one hour and will include:
An eyesight test (26.5 to 27.5 metres)
Five vehicle safety questions (2 show me 3 tell me)
An independent driving section (following road signs or sat nav)
A thorough test of your driving ability (including town, rural, motorway)
Two of the four manoeuvring exercises
Possibly an emergency stop
You will need to show the examiner expert handling of the vehicle controls along with a good anticipation of the actions of other road users. A sound judgement of distance, speed, and timing is required at all times. You must show consideration for the convenience and the safety of other road users and at all times the use of correct road procedure. You should always drive in an environmentally-friendly manner.
To pass you must not commit any serious or dangerous faults or accumulate more than six minor errors.
The Part 3 Instructing Test 
This is a test of your ability to instruct and it lasts an hour. It's the last of three tests you must pass to qualify as an ADI.
You will be required to teach a "real" pupil for a one hour lesson. The lesson must reflect the pupil's current ability and be conducted to the national standard for driver and rider training. The examiner will observe and assess you from the back seat.
The pass mark is 31 from a possible 51 points.
The test costs £111. You must pass the ADI part 2 test before you book part 3. You can apply for your first ADI licence and join the ADI register when you pass the test.
You will receive plenty of help in preparation for your part one test. You will receive our full support and guidance on how to study using the part 1 study guide, recommended books, and DVD. In-car training will help bring your theory to life and build a foundation in preparation for parts 2 and 3. A detailed knowledge of the theory is essential for a successful career as an instructor.
For part two, you benefit from 14 hours of 1-1 driving tuition which will place you in the top 1% of drivers in the country. You may have a lot of driving experience but over the years will probably have developed some bad driving habits. A lot of driving techniques have changed over the years and you will need to be brought up-to-date.
Many training organisations follow too closely to the DVSA's minimum requirement of 40 hours part 3 training. With Topclass you'll benefit from 50 hours of Instructor training and this is where one-to-one training really makes a difference. Sharing a car with other trainees is not a good move. You could be dividing your valuable training time by three, rather than maximising your own. You need, and will receive, our full attention.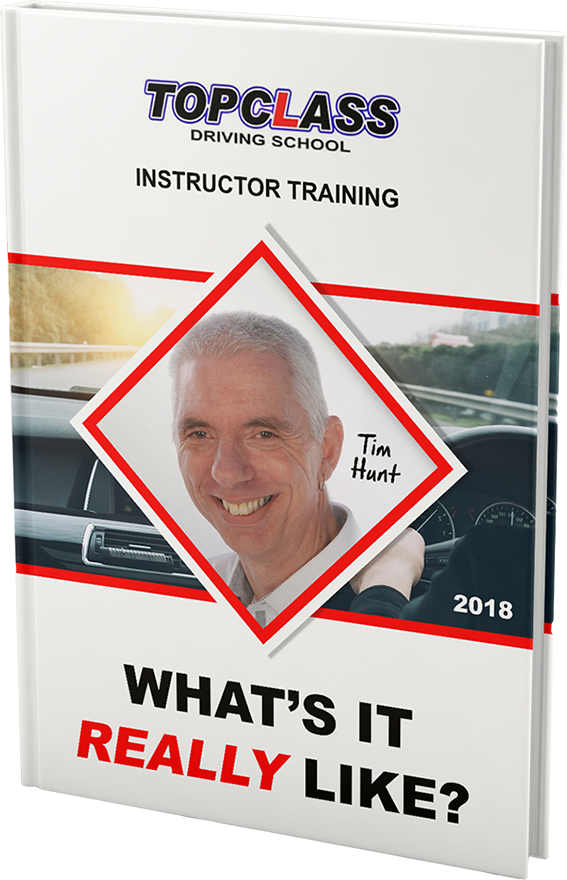 Free Book Request
Simply enter your details into the form below and we will post you a copy of the "What's It Really like Working as a Driving Instructor" book .