Driving Instructor Training Course
A driving instructor training course especially designed with the customer in mind.
Topclass driving instructor training
Any driving instructor training course should take into account the requirements of the tests that need to be taken and the goals and needs of the potential instructor.
At Topclass driving school our ethos has always been and will always be your success is our success. We have a vested interest in your future and to us you are not just another number! No two people are the same and as such there is no such thing as a one size fits all training course.
We treat you as an individual and will train you according to your own personal strengths and weaknesses. You will receive our very best customer service along with the total dedication to help you reach your goal of qualifying as a confident and successful driving instructor.
How to apply to become an Approved Driving Instructor (ADI)
To start your application to become an approved driving instructor (ADI you will need to Visit https://www.gov.uk/become-a-driving-instructor.
You must get a criminal record check from the DVSA. This can be done online. Once you have your criminal record disclosure, you can apply to the DVSA to register to become an ADI.
You can also read DVSA's guide to the ADI register.
The ultimate training course
The "Ultimate Training Course" has been constantly tweaked and tested and is specifically designed to suit YOUR requirements not ours. We offer a personal 1-1 service throughout the course and will be with you every step of the way, from your first assessment drive, right through to the day you qualify.
It's for this reason we can only accept a small number of trainees in the program at one time. Our strategy has always been to offer quality for a few rather than conveyor belt training for many.
As a local business we have an advantage the nationals will never have, we live and operate on your doorstep. You can train at your own pace and around your current work commitments and benefit from unique local knowledge that will be invaluable when you start working in the local area.
You will receive help and assistance at every step of the qualifying process and we will remain on hand with career guidance, business advice and personal development once you have become a fully qualified driving Instructor.
On commencing the training course, if you find it's not for you we will remove all the risk and offer a refund at any time and for any reason.
The course must be completed within the guidelines set out by the DVSA which currently is a two year period from the date you are accepted onto the register of driving instructors.
How do Topclass run there Courses?
You will receive plenty of help in preparation for your part one test. You will receive our full support and guidance on how to study using the part 1 study guide, recommended books, and DVD. In-car training will help bring your theory to life and build a foundation in preparation for parts 2 and 3. A detailed knowledge of the theory is essential for a successful career as an instructor.
For part two, you benefit from 14 hours of 1-1 driving tuition which will place you in the top 1% of drivers in the country. You may have a lot of driving experience but over the years will probably have developed some bad driving habits. A lot of driving techniques have changed over the years and you will need to be brought up-to-date.
Many training organisations follow too closely to the DVSA's minimum requirement of 40 hours part 3 training. With Topclass you'll benefit from 50 hours of Instructor training and this is where one-to-one training really makes a difference. Sharing a car with other trainees is not a good move. You could be dividing your valuable training time by three, rather than maximising your own. You need, and will receive, our full attention.
How much training do I receive from Topclass?
2 hours' driver training (1:1)
3 hours' instructor training (1:1)
1-hour hazard perception / theory training
Part One Study Guide and six DVSA recommended books
Theory / hazard perception DVD
14 hours' driver training (1:1)
Driver Training Workbook
50 hours' instructor training (1:1)
Instructor Training Workbook
Lesson plans / visual aids book
Briefings CD
Paying for your training has never been easier, we can offer a bespoke training package to suit your personal circumstances and finance, from a pay as you go to a weekly or monthly payment option, right through to a fully subsidised training package.
What's it really like working as a driving instructor?
Contemplating a new career can be a very exciting venture but performing the necessary research is vital before making such a life changing decision. We are very confident that our "Ultimate Training Course" is the most comprehensive available anywhere in the local area but is this career change right for you?
We suggest some vital steps to assist you in making the correct decision.
Please order a copy of our free soft cover book.
Come and meet with me so I can explain exactly how you would fit in to the team. I will be conducting all your training sessions on a 1-1 basis and it's important that you know who I am and more importantly whether you feel you would gel with me.
Ask every single question you can think of and I will give you a very honest answer. We have to be very transparent in everything we do as we live and operate on your doorstep.
Research what other training companies have to offer and you will then be able to make an informed comparison.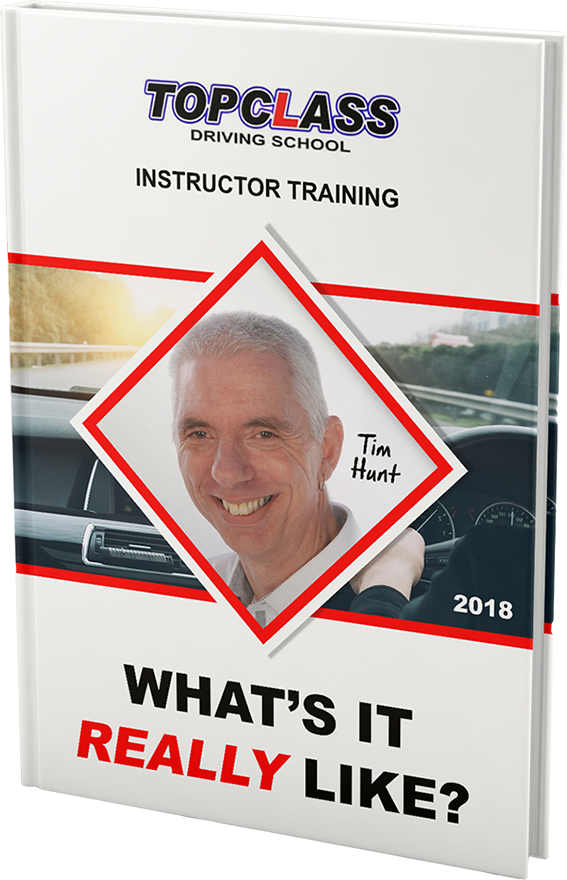 Free Book Request
Simply enter your details into the form below and we will post you a copy of the "What's It Really like Working as a Driving Instructor" book .